Updating / Upgrading the magimix cook expert firmware from 2.01S to 4.00F (new features!) only available on the french website (2022)
If you own a magimix cook expert like me, I was surprised to find that only the french entity website released an update (for now?)
The update comes with some cool features:
(translated by google translate)
3 new Bakery programs

Pancakes/Waffles, to delight the taste buds of young and old with just one click.
Pizza, for a pizza dough, kneaded and risen like a real Pizzaïolo!
Chocolate, to melt the chocolate before incorporating it into your cake batter.
And also… An improved dough-cake program, for even more successful cakes.

3 new Rinse programs

Eco: for light and less dirty preparations such as steam cooking.
Medium: suitable for most preparations (simmering, frozen dessert, etc.).
Plus: to clean the sides of the bowl more easily after dirtier preparations such as heavy dough.

3 new programs for the Cocotte* accessory (only available in France as far as I know)

To brown at 140°C, onions at the start of the recipe for example.
To slowly simmer your preparations and bring out all the flavors of your ingredients.
To keep your preparation warm before eating.

Dark mode / Light mode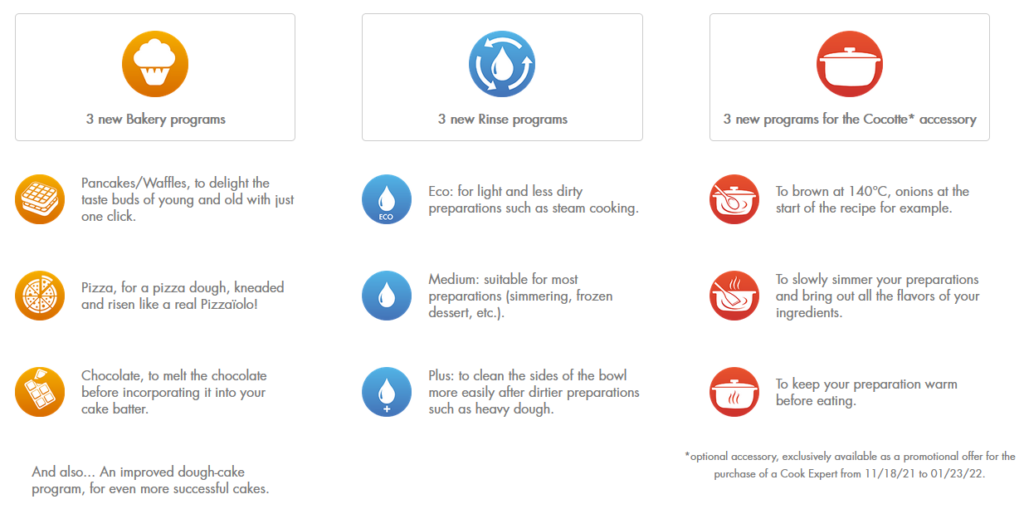 Only available on the french website?
It does not seem at this moment (27/03/2022) update 4.0 isn't available anywhere but the french website, yet, it's flashable on non-french units and contains all the language packs
You can follow the original instructions on https://www.magimix.fr/content/60-cook-expert-mise-a-jour-4-0 or follow my quick guide below.
How to flash your magimix cook expert.
Preparing the USB stick
Format a USB stick as FAT32 (use USB sticks under 32G, ideally a 4GB USB stick)

Whilst >32GB sticks can work, I did not try. at times these controllers in appliances don't deal well with large FAT32 sticks.

The name of the USB stick does not matter as far as I know
Download 2 files and place them in the root directory of the USB stick
File 1: the flash file
File 2: the actual update itself
Safely eject the USB stick (not really required, but you never know)
Flashing the magimix cookexpert.
Flip your magimix upside down
Plug it in, and turn the button on the back, off
unscrew the USB cover and insert the USB stick
there are 3 buttons above the stop button, hold the upper one, and the lower one (don't hold the middle on)
whilst holding those buttons down, and keep holding them down, flip the powerswitch to ON on the back of the device
The manual states to let go of the buttons as soon as the screen flashed white, I did not do this, I kept holding the buttons for ~10 seconds (until my USB stick status light started flashing ) then wait around ~40 seconds for it to boot the new firmware

Once booted, it defaults to the french language, you can change this by navigating to settings > language, or in french "Réglages > Langues"
If your system was already in french, check out "Settings > Meter"
this should show Versions"SYSTEM 4.00F"
You might have to turn on your accessories again (steam basket / dough hook)